"EUGENIO MEDEA"
Scientific Institute for Research, Hospitalization
and Health Care
"Eugenio Medea" is a Scientific Institute founded by Association "La Nostra Famiglia" in Bosisio Parini (Lecco) in 1985.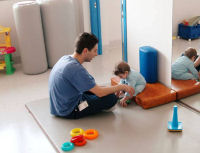 "Eugenio Medea" has branches in Ostuni (Brindisi), Conegliano (Treviso), San Vito al Tagliamento (Pordenone) and Pasian di Prato (Udine).
To date "Eugenio Medea" is the only Scientific Institute in Italy recognized for research and rehabilitation in childhood and adolescence.
Find out:
17-Gen-2013 - © I.R.C.C.S. Medea